It's women's health week and if there's one thing I am extra loud about, it's women's health.
Many reasons why.  One is I spent the first 5 years of my career working in a women's health centre – back in the 80's (yep that old). I was young, studying for my psychology degree at nearby Sydney University and passionate about helping people. I worked with 65 loud, pioneering, inspiring healthcare workers – 55 women and 10 men and learnt so much from them over those 5 wild years. So many educational patient and life learning stories I still share in my training sessions today.
We had to fight for women's rights to safe, affordable healthcare back then. We also fought our way through a group of dedicated, abusive protesters to get into our clinic every day.  I remember backyard abortions. I remember being horrified at how many 'rape counselling' appointments I made, how many 'domestic violence' groups we needed to run. We trialled HIV drugs and RU486 and we marched for the right for women to have contraceptive choice.
We also did a lot of Pap tests and I was working there in 1991 when the National Cervical Screening Program was first introduced. I am so thrilled to see the success of the combined effect of HPV vaccination and Cervical Screening Tests! We sure have come a long way!
CERVICAL CANCER – We have halved the rate of deaths from cervical cancer with possible eradication by 2035
BREAST CANCER – The chance of surviving at least 5 years is now more than 90% 
BOWEL CANCER – Australia has one of the highest rates in the world but we have a 90% success rate if treated early
Now is the time to start getting loud with re-engaging our patients. Tell them all the changes you have made in your practices to keep everyone safe. Let's ensure they understand the importance of regular health checks.
Many years after the women's health clinic I worked for a Gynaecologist and managing results and recalls was part of my job. 'CIN3' is forever etched in my memory.  I remember being unable to find women to tell them, trying to keep track, contacting and transferring devastated women.  I remember how easy it was for pieces of paper and people to get missed. Ensuring no patients ever slipped through the cracks on my watch was my mission.
As trainers we see enormous risk when we visit practices without good systems. We all have an important role to play.
Let's make some time to re-focus on cancer screening, vaccinations, patient engagement and improving our recall and reminder systems.

FREE CANCER SCREENING CHEATSHEETS
When you look at your Pen CS, Polar, Best Practice or MedicalDirector data you will probably be shocked to find your data does not reflect the cervical, breast and bowel screening you are doing. In fact if you look at Pen CS or Polar it may show you do none!
With incorrect information in your software, how can you lead evidence based practice improvements?

It is very important all your results are coded in the correct way to help you easily identify both risks and care gaps. This is about using your software well, entering information in the correct, coded way so it supports you.

Download these handy cheatsheets and share with  your team.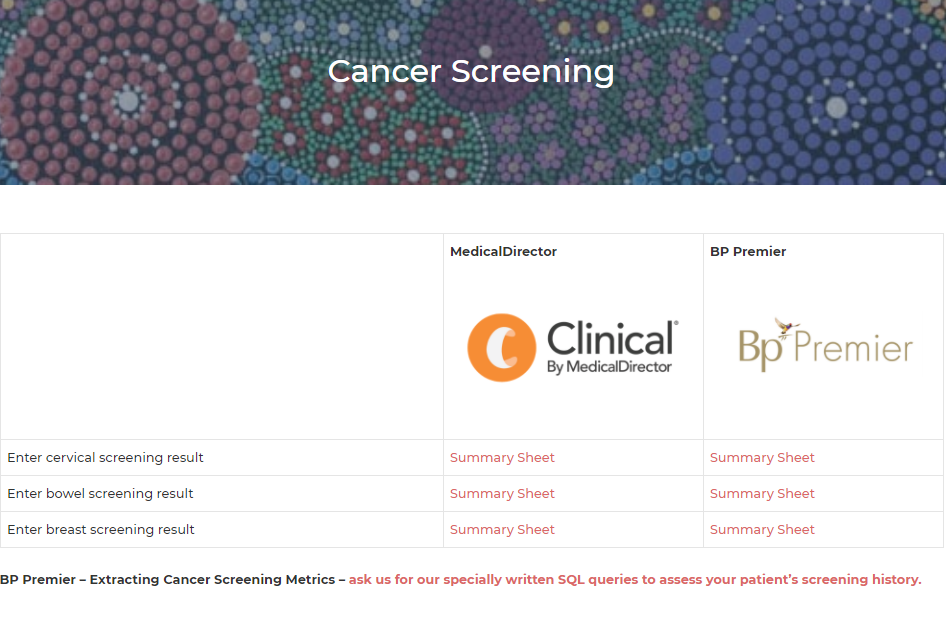 There is a double practice incentive payment – PIPQI – with cervical screening being one of the key criteria so it is a good time to re-focus on screening and data driven practice improvements. Contact [email protected] if you would like an individual training session for your team or practice.
FREE CANCER SCREENING SQL QUERIES & GOOD NEWS FROM MEDICALDIRECTOR
Regular followers would know we have previously shared specially written SQL queries for Bp Premier to help identify patients for whom you have received cancer screening results but those results may not have been entered in the correct (coded) way in your clinical software.
Super-exciting news is that MedicalDirector now also has this functionality. Yay! Keep an eye out for more from us on that and we'll be sharing some brand new, purpose-written MD SQL queries to help you with your data driven improvements.
HELP FOR YOUR RECALL & REMINDER SYSTEM
It is so important that we have a clear, systematic, safe and efficient recall and reminder system. It is notoriously challenging for all sorts of reasons.

Check out our old powerpoint presentation from when we were introducing the change from Pap tests to Cervical Screening Tests.
Watch this 10 minute video I made when Bp Indigo was introduced and gave us a way to differentiate between clinically significant 'recalls' and preventive health 'reminders'.
Did you know MedicalDirector has this feature too? It is so important that you control  your list and have a clear system that everyone in the practice follows. It's a safety issue!
And while your recall and reminder list may not look messy like the one in the old pic here but there is always room for improvement and you can't be experts at everything. Our trainers are experts at improving recall and reminder systems. Let us help you.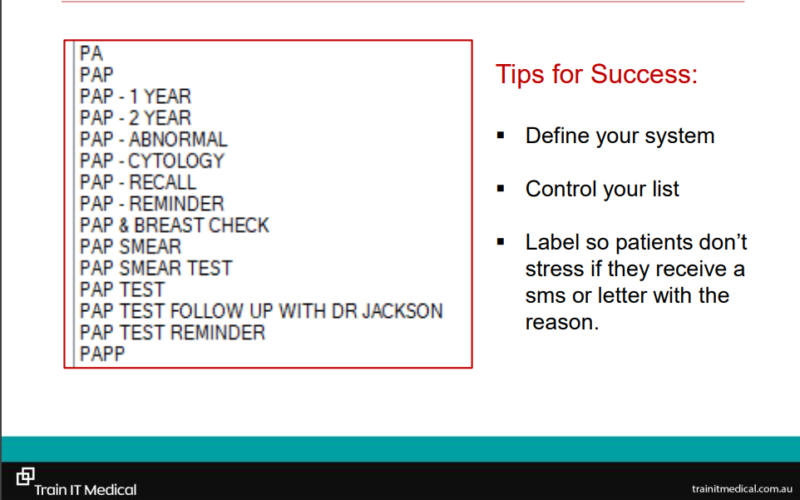 SPECIAL OFFER FOR OUR SUBSCRIBERS 
We invite you all to our live webinars (see webinar topics and dates).
After each webinar we email codes for specific PHN areas to access the webinar recordings and resources via our Learning Management System – courses.trainitmedical.com.au/
If you see your PHN listed please email [email protected] for a code.
Free courses are now available on the LMS including the CSIRO/Dept Health course we created on coding and data quality. We strongly recommend this be included in your orientation pack for all new staff.
BONUS OFFER – If you register for an account (it's free) right now on our Learning Management Solution (LMS) you will be a 'founding member' and eligible for all sorts of goodies when our fabulous new version is launched – very soon!
Thank you all for the wonderful care you are all providing.
For our Victorian colleagues we know it is extra tough at the moment.
You are in our thoughts and we send you love and strength.
Please reach out if we can support you in any way.
With best wishes, Katrina and team #TrainITMedical
REGISTER FOR ONE OF OUR WEBINARS:
Join our webinars and let's share ideas about how to use our technology more effectively.
Let's share tips to now re-engage our patients to understand the importance of cervical, breast and bowel screening and vaccines!
Recalls and Reminders using Bp Premier | 10 September
South Western Sydney Primary Health Network #SWSPHN
Click here to register
Customisable Health Content as a Digital Tool to Engage Patient Groups  |  7 October 2020
Central Queensland Wide Bay Sunshine Coast Primary Health Network #CQWBSCPHN
Click here to register
Immunisations – who needs them? Interactive demonstration using Bp Premier -|14 October
Western Sydney Primary Health Network #WentWest
Click here to register
Improve Cancer Screening systems and data – using Bp Premier | 15 October 2020
Queensland Alliance of Primary Health Networks #NQPHN
Click here to register
Immunisations – who needs them? Interactive demonstration using MedicalDirector Clinical  | 22 October
Western Sydney Primary Health Network #WentWest
Click here to register
Recalls, Reminders and Cancer Screening using Bp Premier | 8 December 2020
Queensland Alliance of Primary Health Networks
Click here to register
Share the love – and this newsletter with friends and colleagues🎁
Subscribe to receive this newsletter directly to your inbox
Follow us to be notified about our upcoming education events:
Facebook     |  Linked In   | Twitter