Team Train IT Medical is completely focused on supporting you through these challenging times.
Here's a summary of what we developed for practices and support teams last week and what we're planning next:
FREE RESOURCES WEBPAGE FOR COVID-19
Are you suffering from resource overload at the moment?
We are, so we thought it might be helpful if we collated what we feel are particularly helpful resources on a new free resources page for easy access. Updated daily.
With our free resources we are particularly focused on resources to support your wellbeing, consumer education and Aboriginal and Torres Strait Islander Health.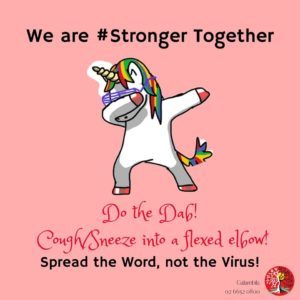 Our award for best social media this week goes to Galambila Aboriginal Medical Service (facebook). Outstanding posts we can all learn from.
Shoutout also to North Coast Primary Health Network for exemplary education & resources.
Let us know your favourites and we will share more.
ONLINE LEARNING FOR COVID-19
MD & Telehealth eLearning course now created.
Bp & Telehealth eLearning course now created.
These are our 53rd and 54th eLearning courses and the 1st of 3 of our Covid series.
No. 2 in our Covid series will be 'Covid 19  Management using Bp or MD'. No. 3 will be 'Covid 19 & your Flu Clinic using Bp or MD (including Pen CS or Polar)'.
We are currently liaising with Primary Health Networks and health organisations to hopefully get our new eLearning courses purchased so as to be able to provide them free for practices.
Please forward this blog to your PHN contacts so they know this education has been created and is available!
It's best we all use our time and support wisely and not reinvent the wheel.
We will let you know asap how you can access these eLearning courses.
Hot off the Press:
Dr Tony Lembke's update on COVID-19 as at 22 March 2020
Don't forget to head over to PracticeCoach too as we've been creating tons of free resources for you over there also.  About #Practice Coach (The Practice Excellence Institute)
We are blessed to work with incredible people in health.
Know that we see you, we appreciate you and we thank you for doing the wonderful work you do.
This crazy time will pass but now we are more isolated it is more important than ever that we reach out online and support each other.
Connect with us via Facebook   |  Linked In   | Twitter
or reach out to me directly anytime: [email protected]
We're in this together.
Biggest virtual hug from Katrina & team #TrainITMedical.